REPORTING FOR DUTY 5.17.09
Sun May 17, 2009 8:14 pm by Xathiador
Hello friends!
School ended for me a little while ago, and that means it is time to resume our positions. The graphic novel is underway again and so I will be active again at this forum! Big changes ahead, all for the better! It just keeps getting better and better! You all just haven't seen it yet. x_X But ya will soon! Stay tuned!
Comments: 1
Time to make BIG avies!!
Fri Jan 23, 2009 11:24 pm by Xathiador
Comments: 2
Added some cool stuff for you guys
Fri Jan 23, 2009 1:13 am by Xathiador
More great things about this forum host seem to crop up all the time! I just added some widgets for you to mess around with, on the left column as well as a chatbox at the very bottom. Hopefully more cool things will be coming your way!
Comments: 1

Moonshine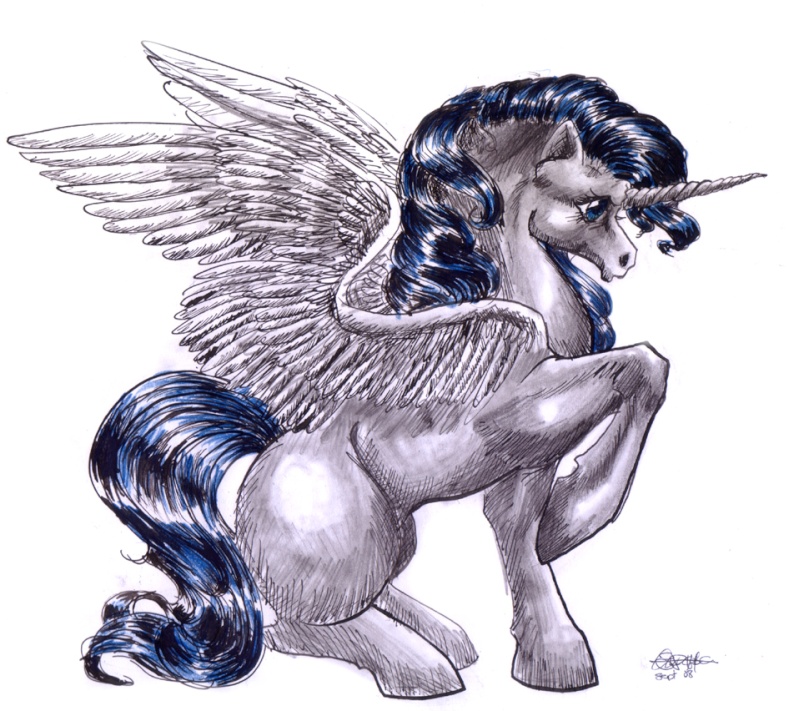 basic
[-N A M E//: Moonshine
[-A G E//: 13 in human years
[-G E N D E R//: Female
[-S P E C I E S//: Equine
[-B R E E D//: Winged unicorn/Pegacorn
[-H E I G H T//: 110 cm
[-W E G H T//: 80 kg

lineage
[-M O T H E R//: Unknown
[-F A T H E R//: Unknown
[-B R O T H E R S//: None
[-S I S T E R S//: None

loved
[-C R U S H//: None yet
[-L O V E R//: None yet
[-M A T E//: None yet

acquainted
[-K E Y//:
Hatred I will never ever forgive you
Angered What do you think you're doing?
Annoyance Don't even try
Unsure I don't know much about you
Acquainted We met each other once
Friend We have a lot of fun
Trusted I trust you
Best Friend Best Friends For Life
Respect I respect you
Crush Maybe once you will be mine
Love You mean everything to me
Mate We will always be together
Family I don't know you
personality
[-F E A R S//: Getting hurt, losing her friends or loved ones, getting lost, being the only one in the world
[-W E A K N E S S E S//: Emotional, shy
[-S T R E N G T H S//: Fighting, magic
[-L I K E S//: The moon and stars, being out at night, magic, wind, rain
[-D I S L I K E S//: Hot summer days
[-L O V E S//: Her friends and family, magic
[-H A T E S//: Creatures that try to fight her
[-V A L U E S//: She protects those who are close to her
[-H O B B I E S//:
Being out at night, using magic, feeling the wind in her face
[-O V E R A L L//: Moonshine is very kind and friendly. To those who are much smarter and older then her she is a little bit shy but she can be strong and brave when needed.
She is a winged unicorn but she can't fly.
physical
[-
E Y E S
//: Sky blue
[-
B O D Y
//: Pure white
[-
M A N E
//: Night blue [/sup]
history
.........

basic
[-B Y M E//: None
[-R E Q U E S T S//: one ( look at the drawing at the begin of this ref )
[-G I F T S//: None
[-T E M P L A T E S//: None

theme
[-T H E M E S O N G S//: Break away



[sup][-L Y R I C S//:
Grew up in a small town
And when the rain would fall down
I'd just stare out my window
Dreaming of what could be
And if I'd end up happy
I would pray (I would pray)

Trying hard to reach out
But when I tried to speak out
Felt like no one could hear me
Wanted to belong here
But something felt so wrong here
So I prayed I could break away

[Chorus:]
I'll spread my wings and I'll learn how to fly
I'll do what it takes til' I touch the sky
And I'll make a wish
Take a chance
Make a change
And breakaway
Out of the darkness and into the sun
But I won't forget all the ones that I love
I'll take a risk
Take a chance
Make a change
And breakaway

Wanna feel the warm breeze
Sleep under a palm tree
Feel the rush of the ocean
Get onboard a fast train
Travel on a jet plane, far away (I will)
And breakaway

[Chorus]

Buildings with a hundred floors
Swinging around revolving doors
Maybe I don't know where they'll take me but
Gotta keep moving on, moving on
Fly away, breakaway

I'll spread my wings
And I'll learn how to fly
Though it's not easy to tell you goodbye
I gotta take a risk
Take a chance
Make a change
And breakaway
Out of the darkness and into the sun
But I won't forget the place I come from
I gotta take a risk
Take a chance
Make a change
And breakaway, breakaway, breakaway
[-L I S T E N?-]


Last edited by Moondragon on Mon Mar 02, 2009 12:44 pm; edited 2 times in total



Number of posts

: 2


Age

: 23


Location

: Belgium in Europe


Registration date :

2009-01-20




---
Permissions in this forum:
You
cannot
reply to topics in this forum